Featured Musician – November 2013
Instrument: piano
Early Years/Education: Musical ability all came from my mother's side, but my father's parents played violin and piano — they were Hungarian. My mom's father was a science teacher and musician and played on the cruise ships. Mom played a little bit too. I was born in D.C. and grew up on the outskirts. For high school, my parents sent me to the North Carolina School for the Arts. I took serious classical lessons with a Russian teacher from age eight.
Heard some jazz for the first time while in high school, Bill Evans's "You Must Believe in Spring." I listened to it over and over again. My high school didn't have a jazz program. Then, I went to the New England Conservatory of Music (in Boston), because I was originally going to Boston University and all of a sudden one or two weeks before school was going to start, I had this adolescent rebellion against the whole idea of going to a huge university with football games, homecoming, etc. I called NEC and asked them to please let me in. I wanted a music degree, not a liberal arts degree with music on the side.
Once I was at NEC, I proceeded to develop severe tendinitis, and I had to stop playing. While that was gong on, I heard the jazz piano music of Bevin Manson and Geri Allen, who both were teaching there. It was really Bevin who was instrumental in getting me into jazz piano. I started transcribing all this music and listening, so when I was healed of the tendinitis, I started playing jazz.
Then I got on jazz guru Charlie Banacos's waiting list. He taught George Garzone, Danilo Perez, etc. I got a music degree from the New England Conservatory in jazz piano performance. After a move to New York, I started subbing with all-female bands, made the jam session scene, developed more original music, and started to sing Brazilian music. I got really excited about Brazilian music.
George Colligan: How I met George was kinda funny. I actually heard his music before I ever met him. In 1996, I was in Boston working a miserable job at an ad agency when I decided to enter the American Pianist Association Jazz Piano competition in Indianapolis. I get there and I'm one of six finalists. While staying with a host family, the Dad said to me, "You should have heard the guy who was here in 1992 and 1994." And then he plays me this tape of George Collligan and tells me he lives in New York now.
I'm thinking, "I wish I could play like that." Then I thought to myself, "Four of the other finalists live in New York, I can live in New York. too." So I moved a few months later. After I moved to New York, I met DIVA, an all-female band, and started subbing with them. One day I saw that George was playing at Bradley's with Buster Williams, so I went. I was on a date that wasn't going very well, and tried to introduce myself to him.
Two months later I go to a jam session at Ingrid Jensen's house, and George was there and we became friends. I eventually got to know him better, and as it turns out, he grew up in Maryland, too. We started dating in 2000 and married in 2005. We now have a two year old son, Liam.
Food Blogger: I was a food blogger in New York City for nine years — the blog was called Salli Vates. I was one of the first restaurant review bloggers, Now, I'm the food columnist for Oregon Jewish Life publication and do a monthly food column for them. I also have a blog here called "The Rose and The Apple," about the culinary cross pollination between Portland and New York chefs. I had no pre-conceived ideas about Portland. I'm surprised how good the food is here.
Teaching: Technically, I'm an adjunct professor at PSU. I give a clinic on beginning composition. I feel that not enough people write, they just play standards. I think it's really important to learn how to write. The more you compose, the better you can improvise. It's kind of the same process. If you're organizing the whole process in your brain, you're going to have more of your own sound and make the choices you want to make. Also, it's really gratifying to be able to play your own compositions and share that with other people.
As far as teaching goes, I'm really only interested in teaching jazz composition. You can gain a lot from analyzing the jazz tradition, a lot of the greats wrote melodies over older pieces, like Charlie Parker soloing over "I Got Rhythm."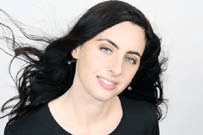 Kerry Politzer
Musical Influences: Number One is George Colligan. He is one of the best pianist in the whole world, even though he doesn't always get his due. Then there's Charlie Benacos, Mc- Coy Tyner, Chick Corea, Keith Jarrett, Herbie Hancock, Wayne Shorter, Thelonious Monk and Kurt Rosenwinkel. Can't forget the Brazilian guys like Milton Nascimento, Chico Buarque and Hermeto Pascoal. (He was at NEC in residence and wrote a piece for me and autographed it.)
Most Satisfying Experience(s): Played the jazz cruise on the Queen Elizabeth (QE2) for one week in the jazz orchestra DIVA. Slide Hampton was on the gig. Then I came back and did a week at the Blue Note with Diane Schuur. Got to do a quartet set with Larry Coryell, got to play in some of my favorite New York clubs like Cornelia Street Cafe and Smalls. I did a CD release at Smalls. [I also] performed at the Songwriter's Hall of Fame Showcase at the Bitter End.
Favorite Recordings: George Colligan – Como La Vida Puede Ser; Milton Nascimento – Travessia; Milton Nascimento/ Wayne Shorter – Native Dancer; McCoy Tyner – Time For Tyner; Keith Jarrett – Standards Vol. 2; Kurt Rosenwinkel – The Next Step; Wayne Shorter – JuJu; Elis Regina/Antonio Carlos Jobim – Elis & Tom; McCoy Tyner – The Real McCoy; Chick Corea – Now He Sings, Now He Sobs.
Discography: Debut CD, "Yearning", CAP Records, 2001 (the title track, "Yearning," is also featured on "Sax and the City: Musical Contributions from New York's Best Women Jazz Instrumentalists" on Apria Records, 2004); "Watercolor" (2002) and "Labyrinth" (2005), on her own Piloo label (Politizer's composition, "Rhodes Rage," from this CD won third prize in the jazz category at the 2005 International Songwriting Competition and the album was a finalist for Best Jazz Album in the 2007 Independent Music Awards); "You Took Me In," 2007 (with Politzer on vocals and piano); and "Blue in Blue," 2010, Piloo Records.
Gigs: November 5, Jazz Composition Clinic, Portland State University (5:00 PM, all ages); November 22, with John Huteson Trio, Brasserie Montmartre; December 5, with Andrea Niemiec, Tabor Bread; December 15, with Thomas Barber Group, Blue Monk.
Future Plans: Really excited about my sixth CD. We just recorded, it has some of my newest compositions on it as well as some of my oldest ones. Wrote some of the material during a difficult time living in Winnipeg (where we lived before coming to Portland). It has David Valdez on alto saxophone, Andrea Niemiec on bass, Tom Barber on trumpet and George Colligan on drums.
Other: One of the big differences between Portland and New York is that the tendency here is to play more behind the beat, it's that West Coast thing, a little more chill. The New York players are really frenetic. Musically and generally it's hard to get used to.
Interviewer's note: When PSU recruited George Colligan for its music department, Portland got two great new pianists.
---