Featured Musician – January 2013
Instrument: Bass
Early Years/Education: Born and raised in New York City, I came from a musical and political family. My stepfather was an extraordinarily good classical singer (baritone). Our house was filled with musicians of all kinds — not jazz though. I grew up with Paul Robeson as my kid brother's Godfather. The particular pull toward jazz had to do with finding an identity. I had no reason to rebel in any significant way, but my parents didn't quite get jazz in the way I did. That probably was a part of its attraction to me. Jazz was heard in the house. They exposed me to Louis Armstrong, Bix Beiderbecke and Benny Goodman, as well as Josh White, Sonny Terry and Brownie McGhee, etc. I knew a lot of those (Folk) people, and when they needed a bass player, I was often called.
Educationally, I went to the High School of Performing Arts in New York, M.I.T. for a year and a half in Engineering, then transferred to Brandeis and received a B.A. in Music. Something happened at Brandeis in 1957, which is when I met Bill Evans.
There was a concert going on there (possibly Gunther Schuller's preparation for his "Modern Jazz Concert") that involved a bunch of musicians who later became my friends and mentors. Here were these New York jazz musicians at this isolated university, not expecting anything. Then they walked into the place where they had to go to get food, and found pianist Steve Kuhn, drummer Arnie Wise and me playing jazz. They were in shock! At that time, there was no jazz in college, you didn't find kids doing this in college. Those guys were George Russell, Art Farmer, Bill Evans, Hal Mc Kusick, Barry Galbraith, Joe Benjamin and Jimmy Knepper.
After college I went to Europe to "find myself." After that I returned to Boston and went to work for Acoustic Research because there was no work in Boston. I did experimental work on loudspeakers. My next job was with George Russel's sextet, that was my first [music] job in New York. Then there was the Benny Goodman Orchestra for a few weeks in 1960, then I got a long job for the summer in Europe with Jerome Robbins Ballet USA. During that time I got a letter that said Scotty La Faro had died, and I knew when I got home, there would be a message from Bill Evans — and there was.
Portland: We [Israels and his wife, Margot Hanson) are here by choice. We moved here two and a half years ago from Bellingham, Washington. We jumped over Seattle because we had a feeling for the community of musicians here. We came to embrace it, and if it returned that, we would feel like we belonged to something.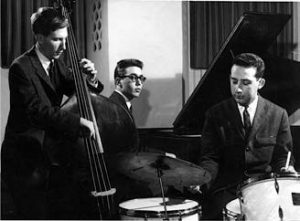 Chuck Israels, Steve Kuhn and Arnie Wise at Adams House (Harvard) in 1957
Belonging has been a big motivation in my life. I choose what to belong to. I started playing jazz and being a bass player in order to belong to something; not to be a star but to belong to something. Particularly, to belong to a trio — like in college with Steve Kuhn, I wanted to belong to that. Then, I wanted to belong to the Bill Evans Trio. He picked me at a point when he needed me because Scotty La Faro had died and I was the next logical person. We knew each other, we picked each other in that I was compellingly drawn to his musical aesthetic and I was ready. If Scotty hadn't been there, it would have been me; he was just a little more advanced at that moment. We were 24 or 25 years old. In certain respects, I was well prepared for it. I had classical music training as a cellist and theoretical in college.
Bill Evans Trio: After being in the Bill Evans Trio for six years, the level of group functioning was so high, so disciplined. (Ironically) People see it as this free thing. It was freedom based on tremendous mutual consensus and discipline as to what could happen when. We did not rehearse. Bill prepared the music in such a way the other two parts could integrate themselves, you could step into that spot. It was Bill's' organization, and it was a highly organized musical world, far more so than the romantic idea that exists in the minds of the fans. I don't think people recognized the work that went into it and what kind of work it was. It's that particular kind of work that made that music go the way it went. It's that work I'm interested in doing with a larger group of musicians here in Portland.
Chuck Israels Orchestra: I have fortunately found a group of enthusiastic musicians here who have embraced this and are interested in the results that happen — how the audience responds. I'm interested in pursuing the job we're doing here with these people in this community that will get a wider audience for the aesthetic point of view that I espouse. That comes from all of the stuff that I was lucky enough to have been put into me from where I was. And where I was, was playing with Bud Powell, Lucky Thompson, John Coltrane, Kenny Dorham, Roland Hanna, J.J. Johnson, Stan Getz, Steve Kuhn, Hod O'Brien, etc. The main thing is the commitment to this music in this community with these people. The sense that there's an opportunity for this to grow here and the need to be a part of something. I want to belong.
Other Associations: Bill Evans was my chief association. The others that have impacted me include working with J.J. Johnson in a combo setting, recording with him and doing "J.J.'s Broadway" with five trombones. He was a superb musician and a superb person. Working with Lucky Thompson in Europe: he was under-recognized, and he always felt that and was resentful of that. He was a great player doing good work, and people were passing him by. Don Byas was another one, and Bud Powell. By then Bud was a shadow of himself, that was 1959, and he was hardly there.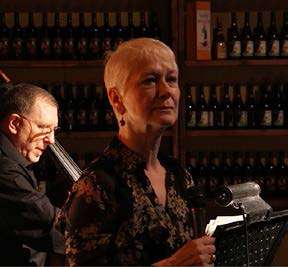 Chuck Israels and wife, vocalist Margot Hansen
Teaching: I taught for 24 years at Western Washington University in order to survive without having to play music I hated. Before that, I had the National Jazz Ensemble in New York (precursor to what Wynton Marsalis is doing) and was struggling with that. My wife, vocalist Margot Hanson, got a job with the San Francisco Opera Company, so we moved to San Francisco. [And then to Bellingham.]
Musical Influences: My family — long term music values were instilled in me from childhood. There was a time when I thought Dave Brubeck's music was significant and important to me, and I don't feel that way now; there was a time when I thought Monk's music was some kind of charlatanism, and I don't feel that way now either. Our tastes change and develop.
Most important influences: Billy Strayhorn, Duke Ellington, Jelly Roll Morton, Louis Armstrong, Charlie Parker, early Sonny Rollins, Bill Evans, Gil Evans, Thelonious Monk, early Miles Davis, Amah Jamal's trio for a time, Errol Garner and Horace Silver. For bass players it was Oscar Pettiford and Red Mitchell. All of this factors into a musical personality. What comes out is this result that's not easily explained.
Most Satisfying Experience: It was certainly a high point to be in the Bill Evans Trio at a time when the Trio was an institution in the world that was recognized by everyone and paid attention to. The joy and satisfaction of being know and recognized as a part of something that I valued highly, without approaching the fame that traps you. Writing and conducting the Metropole Orchestra and the Hanover Philharmonic were also great experiences. The peak is always the next thing, which is what I'm doing with the band here in Portland — that's a lifetime commitment.
Favorite Recordings: The final take of Bill Evans and Jim Hall playing "My Funny Valentine" on "Undercurrents," a duet album. They put the first take on the CD. Duke Ellington, "The Great Paris Concert," 1961. Selecting favorite recordings depends on the mood I'm in. I love Astor Piazzolla; a number of Horace Silver's records; Dave Berger and the Sultans of Swing, "Hindustan"; Miles Davis and Gil Evans, "Sketches of Spain," "Porgy and Bess" and "Miles Ahead"; Duke Ellington, "And His Mother Called Him Bill." The Bill Evans recordings I love to listen to are: "Portrait in Jazz" (his first with Scotty La Faro) and the 1956 "New Jazz Conceptions" with Teddy Kotick and Paul Motion on Riverside. That's the Bill Evans I first knew, the only record he ever made that wasn't under the influence of drugs. More favorite recordings would be from Clifford Brown and early Sonny Rollins with Jim Hall.
Discography: with Gary Burton, "Something's Coming!" (RCA, 1963); with John Coltrane, "Coltrane Time"; with Rosemary Clooney, "Rosemary Clooney Sings Ballads" (Concord, 1985); with Eric Dolphy, "In Europe" (Prestige, 1961); with Bill Evans, "Nirvana" (Atlantic, 1962), "Moon Beams" (Riverside, 1962), "How My Heart Sings!" (Riverside, 1962), "Time Remembered" (Milestone, 1963), "At Shelly's Manne-Hole" (Riverside, 1963), "Trio Live" (Verve, 1964), "Waltz for Debby" (Philips, 1964), "Trio '65" (Verve, 1965), "Bill Evans Trio with Symphony Orchestra" (Verve, 1965), "Bill Evans at Town Hall" (Verve, 1966); with Don Friedman, "A Day in the City" (Riverside, 1961), "Circle Waltz" (Riverside, 1962); with Stan Getz, "Getz au Go-Go"; with Herbie Hancock, "My Point of View" (Blue Note, 1963); with George Russell: "George Russell Sextet at the Five Spot" (Decca, 1960), "Stratusphunk" (Riverside, 1960), "George Russell Sextet in K.C." (Decca, 1961).
And there are a few CDs released under my own name: "Convergence" and "Anchor Man" — both on Philology — and "It's Nice To Be With You," on Stunt Records. There are also recordings with the National Jazz Ensemble under my direction released on Chiaroscuro, and recordings of my music under my direction with the Metropole Orchestra — "The Eindhoven Concert" on Azica Records, and with the Hannover Philharmonic on Mood Records.
Future Plans: To make The Chuck Israels Orchestra work here — that it will grow, have better economic underpinnings and a bigger audience. It's time to do a recording. I have about 250 arrangements, we play maybe 40 of them, of which maybe 15 represent what I think of as the best and most personal of that repertoire.
Other: I want to make a contribution to the community. I'm a resource here I wish the community would take advantage of. Everybody on that bandstand wants to know what I think they should do, they appreciate what I carry with me, that I'm passing on something.
---