Featured Musician – February 2015
Instrument: alto and soprano saxophone, flute.
Early Years/Education: When my sister was entering sixth grade, she decided to go into band and had to decide what instrument to play. I heard my family talking about instruments, and that same summer we went to the Willowbrook Arts Camp in Tualatin. I made a beeline into the music tent and asked to see a clarinet. I just heard the word and it sounded cool, I didn't know what it was. Steve at the camp gave me a few lessons that week, and he recommended I take lessons with Clark Bondy. My mom said, "You can take lessons as long as you practice," so they never had to remind me to practice. I was always excited about it. When I was taking lessons from Clark, he said "After you stay on the clarinet for a few years, if you want to start the saxophone you can." He always had them set up in the same room because he was primarily a saxophone teacher. So I started saxophone when I was ten, and also played the accordion for five years.
I was in the jazz band at Rosemont Ridge Middle School in West Linn, which is where I grew up. At Rosemont Ridge, I was part of Ronnie LeGrone's jazz band. This was when I started getting into improvisation on the saxophone and clarinet. One day he had Thara Memory come in and clinic us. This was the first time I met Thara. He sparked more of a passion in me about jazz. I went onto the W.O.U. Mel Brown Jazz Camp and got put into Thara's big band. At that time he was forming a new conglomerate big band called the American Music Program. When I joined that band, I thought I could really do this. That's when I decided to be a professional musician. I was 15. I was at that time also part of the "Crayon Kids," a musical theater company based in Oregon City. While in this theater group, we started a jazz combo which we kept going even after we left the theater company. We were called Deja Vu and played around Portland. I did this from age 13 to 16.
Norman Leyden: When I was in the fourth grade we had to do a project on someone, and I chose George Gershwin. We were told we had to interview someone in person, and to find someone in the Portland area who would be knowledgeable on the subject, so I reached out to Norman Leyden (late clarinetist and Oregon Symphony Pops conductor). I brought my clarinet with me; I had just learned the first part of "Rhapsody In Blue." I was really into it. He became one of my main mentors.
Around age 16, I was studying privately on clarinet, saxophones, piano, and accordion. Norman wrote me a letter in which he said, "Hailey, you're spreading yourself too thin, you need to choose a focus and decide what path you want to take to really get the most out of it." That was when jazz saxophone took over in my life.
I went to West Linn High School where I met Jeff Cumston, who was a great mentor to me. Through the American Music Program, Thara Memory took us to the Berklee College of Music high school band competition. At that competition, I won a lot of soloist awards, and Berklee asked me to be a part of their summer jazz workshops with Terri Lynn Carrington. They chose 14 students to work with her over the course of five weeks. I did this after my sophomore year and again after my junior year. At the end of that year, I auditioned for the college program and they offered me a full ride.
When I started my second year at Berklee, I was selected to be part of their inaugural Berklee Global Jazz Institute run by Danilo Perez. It was an amazing experience. I was one of 14 students who had access to master musicians who came and worked with us on a weekly basis. We received private lessons, clinics, coaching from masters like Joe Lovano, Dave Liebman, John Pattitucci, etc. I finished at Berklee in December 2011 and moved to New York, which seemed like a natural progression since most of my peers from Berklee live there now.
Radio Music Society: In New York I connected again with Esperanza Spalding, I had been introduced to her through Thara Memory when she came to clinic us in high school. She heard me at a jam session in New York late one night and asked me to sub for a rehearsal for her band. I learned the music and became her first call sub. Tia Fuller was her primary sax player, but Tia started teaching at Berklee and couldn't make all the tours, so I got to go on four tours with Esperanza.
Currently, I am involved with the Wolff and Clark Expedition. That's with drummer Mike Clark (a former member of Herbie Hancock's Headhunters) and Michael Wolf (who was Cannonball Adderley's last pianist). We have a new album coming out in February.
I'm also involved with a variety of bands in Brooklyn, like Bob Rosen's big band, a fun group called the Broken Robots, and I have my own trio. My main focus right now, though, is the production of my new album, PDX Soul. I also teach flute and saxophone privately as well as over Skype. Contact me through my website, haileyniswanger.com.
Musical Influences: John Coltrane, Cannonball Adderley, Herbie Hancock, Charlie Parker, Joe Henderson, Wayne Shorter, my Berklee professors, my peers, and my top three mentors: Norman Leyden, Thara Memory and Jeff Cumston.
Most Satisfying Experience: I'm so fortunate to have had so many great things happen to me, it's hard to pick one, but as a sideman definitely working with Esperanza Spalding has to be the best. I remember the last performance with her, which was the last performance of the Radio Music Society tour, at the North Sea Jazz Festival in Curacao. We were set up on a stage right on the beach overlooking the sunset, and I thought, "Wow, how much I've experienced with her." I had a featured solo with her where we were bumping lines back and forth, she was singing and I was responding, and vice versa. Prince was watching us from the side of the stage.
We then got to watch his entire performance and he brought us up to dance with him in front of these thousands of people. We then got invited to his private after party and got to hang out with his band until 6 am. It was just like a dream.
PDX Soul: When I was on the road with Esperanza I started composing new music for more of a funk project. It's now completed, and it's my newest album, "PDX Soul," which will premier at the Portland Jazz Festival. It will be nationally released in March.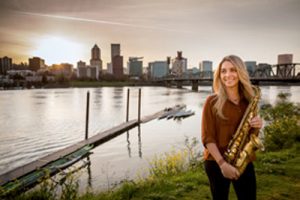 Hailey Niswanger with PDX background
This is a completely Portland project with all Portland musicians, a total of 17 on the project. Thara Memory is the producer and also plays trumpet and sings on a few tracks. The recording is dedicated to Janice Scroggins, who played on it. Errick Lewis is on bass and co-produced. One of the greatest moments for me was just being in that studio and how it all came together. We had two full days of tracking and we finished early on the second day.
I'm really happy with how it turned out … the professionalism and the way it flowed, putting all that work into the music, getting all the musicians together and having finished the third album just felt so good.
Favorite Recordings: John Coltrane – "Live at Birdland," "Ballads"; Cannonball Adderley with Bill Evans – "Know What I Mean"; Thelonious Monk with Coltrane – "Live At Carnegie Hall"; Herbie Hancock "Sunlight"; "Charlie Parker with Strings"; Duke Ellington – "Mood Indigo," "Idiom 59, Part 2"; Ahmad Jamal – "Live At The Pershing"; Roy Eldridge and Dizzy Gillespie – "Roy and Diz"; Stevie Wonder – "Songs In The Key of Life"; Wayne Shorter – "Speak No Evil," "In and Out," etc.
Discography: Confeddie (2009) – Michael Palma, piano, Greg Chaplin, bass, Mark Whitfield, Jr., drums; The Keeper (2012) – Takeshi Ohbayashi, piano, Max Moran, bass, Mark Whitfield, Jr., drums, Darren Barrett, trumpet; PDX Soul (2015).
Future Plans: I'm really excited to see what happens when we release this new album. Hopefully we'll get bookings and tour, that's what I want to be doing. I also want to continue to be a sideman and play with artists who really inspire me, learning their music and writing more of my own music.
Other: I feel equally a part of the music scene in Portland as well as in New York. Being on the East Coast has impacted my playing a lot. Everyone is hungry over there, everyone I'm surrounded with has really pushed me to new levels. In terms of even feeling the beat, it's more on top of the beat as opposed to the West Coast more laid back feel. Just being around people who eagerly want to talk about music and exchange ideas. There's more of it there, more genres, more players, it's an amazing place to network.
Is being a female instrumentalist an advantage?
Yes. There are a number of female saxophone players in New York, I know many. It doesn't stand out to me personally, but I know that it does to people who are not part of the scene, they definitely notice. But you have to be able to represent, you have to impress with what you play.
---