Featured Musician – May 2013
Instruments: piano, trumpet and drums.
Early Years/Education: I had a month's worth of piano lessons in second grade and didn't practice; I just wasn't interested. I then took up trumpet in the fourth grade but still wasn't interested. I tried to quit, but the band director — who was horrible and really didn't want to be there — said, 'You're pretty good; you should play another year.' Too wimpy to quit, I stayed another year. My parents were renting the trumpet for ten dollars a month and said, 'We're wasting ten dollars a month, so you need to practice.' But I didn't really practice until the sixth grade.
In middle school, my band director was completely different. He was inspirational, charismatic, really enthusiastic. His name was Lee Stevens, and I'm still in touch with him today. He said music is the most interesting subject you're going to study … you need to know math, science and history.
Mr. Stevens expected you to practice, and one day he gave us a scale exercise, and I didn't practice it. He had all the trumpets play it individually, and I flubbed the notes. I sat in the middle of the trumpet section, and he said, 'Get up, you're now at the bottom, you're the worst.' I was so embarrassed, I said to myself, I don't ever want that to happen again. So I started practicing all the time. It snowballed, and I started getting into music.
My parents were a little bit into music. My mother was into musicals and show tunes, my father had some classical and jazz records, he was into Fats Waller and Bunny Berrigan. One summer I want to a jazz camp. This was in junior high, and the teacher played Clifford Brown, Clark Terry, Herbie Hancock, Dizzy Gillespie and Miles Davis. So I started listening to music. I'd listen to classical too, like Beethoven's Fifth and "Rhapsody in Blue." Me and my sister would listen to Top 40 hits, and I think it had an influence on me even though part of me was a little but snobbish about it.
Playing the trumpet is very physical. One summer, I practiced a lot unsupervised, and I developed a strange embouchure where I was playing off to the side. Freshman year I made the all-state band as principal, but I couldn't really play eight hours. My teacher said, 'If you're serious, you're going to have to re-learn all the physique, and it's going to be traumatic.' In my high school wind ensemble, I got moved from first chair to the third chair, which is kind of traumatic, so at that point I started getting into drums, playing a bit in rock bands. The rhythmic aspect of music always appealed to me. I went to Centennial High School in Columbia, Maryland.
I took a piano class in high school because I started thinking that I wanted to be a composer and I also wanted to be a better jazz player, and that was just a way to figure out chords. I learned Bach's "Inventions" but kept playing trumpet. My embouchure was better but not coming back the way I wanted. My teacher said, 'Maybe you should take up another instrument.' I guess I wanted to prove him wrong, I wanted to show him trumpet was my voice.
At a certain point I also wanted to be a band director. They were the people I identified with the most. So I auditioned as a "classical trumpet/music education" major at a variety of schools, and got into the Peabody Conservatory in Baltimore.
Peabody Conservatory: There I met Alex Norris, who was one year older, and I started hanging out with him. He'd go around to all of the jazz clubs in Baltimore, and he'd bring me around. I wasn't ready to sit in. He was very advanced, he could already play Coltrane solos on trumpet, electric bass, guitar, he knew what was happening.
I had done some listening, but I didn't know you could actually learn how to play jazz. My teachers were people who liked jazz but didn't totally understand it, they weren't jazz musicians. They pointed me in the right direction, but not enough to say, 'Here's how you transcribe a solo, here's how you learn theory and swing, etc.' It wasn't enough for me to do it.
It wasn't until I started hanging with Alex and seeing him do that, that I thought I could do that too. So I started jamming a lot with him and piano was always there. At Peabody I was still frustrated with my trumpet playing, and I'd take a break and sit down at the piano. It was just more fun, I could get notes to come out. I could be creative, I think I'm more on the creative side.
At a certain point I would sit in at some of these gigs on piano. (A good pianist is a commodity in jazz … lots of sax players, guitar players; the people who work are pianists and bass players.) I then got a steady gig playing jazz two nights a week. The other two guys in the band were older and they'd kick my butt.
After graduation I stayed around Baltimore; rent was cheap and people started calling me for other things. My best friend was a flautist who also played bass, so we'd work as a pair. The gigs kept coming. Then I moved closer to D.C. (from 1991 until 1994). My first touring gigs were with a singer named Melissa Walker, who is now married to Christian McBride. She called me to do a festival in Canada, then she had gigs in Hungary. Went to Chile with some D.C. Musicians. In 1994, what I considered my first real tour was with saxophonist Gary Thomas. He asked me to go to Europe to do four dates as an organist.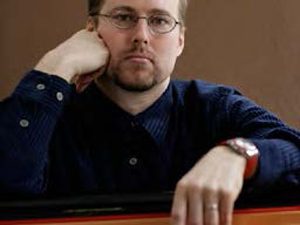 George Colligan
New York: Basically, I went to New York to play with Gary Bartz. He had gigs at Bradley's, Sweet Basil, The Iridium, etc. We went to Stockholm and Spain. Soon Vanessa Rubin heard me at Bradley's with Gary Bartz, and she started calling me. I was also playing with trombonist Robin Eubanks. His bassist was Lonnie Plaxico, who was the music director for Cassandra Wilson. We played maybe once or twice with Robin, and he said, 'I'm gonna call you for some gigs.' Cut to 1999 — a period when I had no work on the books — and Lonnie calls me. He says, 'We got a tour with Cassandra, nine weeks, do you want to do it?' I also started playing with Ravi Coltrane, Don Byron, just by word-of- mouth.
Musical Influences: Chick Corea, Miles Davis, Herbie Hancock, Thelonious Monk, Wayne Shorter, and McCoy Tyner.
Most Satisfying Experience: I think playing with Jack De Johnette. I've had some really great moments. It's just so liberating to play with someone like Jack, where you can just do anything. I think it's changed the way I think about music. We're really communicating on a high level. The way he leads is, it's his tunes, and then he lets us fly.
Favorite Recordings: Clifford Brown – "The Beginning and The End"; Herbie Hancock – "Headhunters"; John Coltrane – "My Favorite Things"; Igor Stravinsky – "Stravinsky Conducts Stravinsky"; Herbie Hancock – "Thrust"; Wynton Marsalis – "Black Codes"; Kenny Kirkland – (Solo record for GRP); Wayne Shorter – "Speak No Evil"; Miles Davis – "Milestones"; Chick Corea and Return To Forever – "Hymn of the Seventh Galaxy"; and Stevie Wonder- "Songs in the Key of Life."
Discography: George Colligan is on twenty-three albums as a leader and featured on over one hundred recordings as a sideman. Through word-of-mouth and being in New York, he played as a sub on many of these recordings. Here's a short list: "Blood Pressure" (2006) on Ultimatum Music; "Runaway" (2008) and "Come Together" (2009) on Sunnyside Records; "Isolation" (2010), "Living for the City" (2011), "The Facts" (2013) on Steeplechase; and "The Endless Mysteries featuring Jack DeJohnette" (TBA).
Future Plans: Doing everything I'm doing now but more of it. As a teacher, I'd like to figure out a way to make my delivery system of information more efficient. Also, be able to inspire them more effectively. If you're a great player, is that inspirational enough?
---