Featured Musician – February 2016
Instrument: Piano, composer for various media.
Early Years/Education: I grew up in Chicago. Mom was a singer and pianist and introduced me and my two older brothers to music. My oldest brother played the drums and my middle brother played guitar. He now plays piano. My mom sang standards and played classical pieces. I would go underneath the piano and listen. Something began to click for me. From age six to twelve I took classical piano lessons. One of the teachers told my mom, "He is an improviser," and suggested she take me to the Alan Swain Studios in Chicago. The teachers there taught his method and he had written books about it. I got his assistants at first but eventually studied with Swain. That experience, along with playing in my high school jazz band and going to music camps set me on my way. I went to three years of the Jamey Aebersold combo clinics held at Northern Illinois University (NIU). People like Joe Henderson and Woody Shaw conducted these clinics.
I did not get support from my parents when I told them I wanted to be a professional musician. I graduated from high school a year early and went to NIU, enrolling in their liberal arts program. They had a good big band there and Dizzy Gillespie came out and played with us. During that year I was in the music dorm and they had new practice rooms with Steinways. I got deeper into playing. I then decided NIU was not enough so I went to Berklee College of Music in Boston. I was eighteen, living alone in my own studio apartment and got even deeper into it. I just wanted to get better. I started playing in bands in Boston and went on the road with a funk band called Malik and Family. I left Berklee after three semesters. I wanted to study privately. I got on the waiting list and got to study with Charlie Banacos (one of the greatest teachers). My chromaticism all came from him. He trained me to bend any note into a chord tone. I did this exercise everyday, and it seeped into my playing. All of a sudden, I found that there are no wrong notes. I stayed in Boston for a total of four years.
I visited my brother who was living in San Francisco at the time and decided to move there. My day job was as a bank teller but I soon started meeting people and gigging. I started working a lot in Peter Escovido's big band, with Ray Obiedo, Linda Tillery, etc. I got r&b and jazz gigs. I started recording records then and playing multiple keyboards. Then, I decided I wanted to not just be a sideman and was interested in writing for orchestra and big band so I went to the Dick Grove School of Music in Los Angeles. Dick was another great teacher. His course was a boot camp on writing and arranging. It was in LA when I started playing with guitarist, Phil Upchurch. He always had great bands and through him I worked with bassist, Gary Willis. Through Gary I got into a band called Tribal Tech. I loved their playing and their writing.
Los Angeles: I was friends with everybody and was getting good gigs. I was the Roland Company's musical director for the NAMM. I was in the Rippingtons. And at about that time I got a call about auditioning for Diana Ross. I went to meet her and played with her and she liked the band. I had heard she had a falling out with her musical director the night before. After our audition I went up to her and asked if I had gotten the gig. I told her I needed to know by the weekend because I was kind of committed to this record I was making. I also told her I would like to be her musical director. The next day I got a call from her manager and he said, "I do not know who you are, or where you come from but she gave you the green light. Let's work up a contract." So I hired an entertainment lawyer, Peter Lopez (Michael Jackson's lawyer) and he got me a really great deal. I was a little freaked out about having to redo forty arrangements to match new instrumentation. I had one month to do it. We did a year long world tour in 1989. After Diana ended and I came back to LA, I still had a reputation and continued to get great gigs.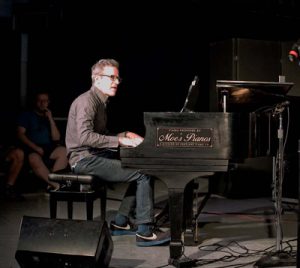 David Goldblatt at piano
When the '90s hit, I started playing with Andy Summers (The Police). We had a fusion band together, and Andy was asked to join the new Dennis Miller show as musical director. He asked me if I wanted to do it with him. It was like The Tonight Show with a beautiful set. It was all new to us. One example of stuff they wanted us to do, when we went out to commercial and came back from commercial, Andy had to cut the band real quick and have witty banter with Dennis. Andy was not into playing that game. His rhythm with the whole thing was not quite right so he quit two weeks in. I am thinking this is a great gig and I am not leaving! So I went to the producer's office. Dennis was there and I stressed to them that we have a great band and with a few changes I can be the musical director. They said yes. I started writing like crazy! The Dennis Miller Show lasted a mere seven months.
I lived in LA for twenty-two years and worked as a session player for major motion pictures, commercials, and TV shows. Some of my TV/film score projects as a composer include: the Showtime series The Defenders, the CBS show EZ Streets; I scored for documentaries and various films like The Net, Time Cop, Quiz Show, Made in America, The Thomas Crown Affair, etc. I recorded and performed with Roberta Flack, Patti Austin, John Patitucci, Larry Carlton, Stanley Clarke, and many more. We moved to Portland for our son, Jordan, in December of 2007. I do not regret that decision.
Composing for Media: One thing I am doing now is writing music for games and "dark rides." I was involved with a project for the 10th International Garden Expo in Wuhan, China. They built this huge ride with 3D screens and surround sound. You get into a car with six people and go through all these rooms. It is an adventure, like a theme park ride. I did all the music and all the sound effects. That was the first time I had ever done that. They sent me these primitive animations not finished yet, I imagined how it was going to look. I did not see it until I went to China to help the engineer mix all the music and sound effects. I am working for an LA based company. I did another one last year for them in Qatar. It was a theme park ride based on water conservation.
PDX Jazz Festival: Solo piano in a jazz context is not an easy thing. When Don Lucoff asked me to play solo I was kind of blown away. I like to stretch with a rhythm section. I am honored that he asked me to do this. I cannot downplay that I have a side that loves to improvise. I am going to play some originals and some standards. I am planning on playing "Wise One" (Coltrane) which for me is the most moving piece of music. I am working on James P. Johnson's "Carolina Shout" and will segue to a piece I wrote called "Teraj" which is Jarrett spelled backwards. I will talk about what these pieces mean to me. Art Lande was one of my teachers and I wrote a tune for him. I might do that one. Maybe a Stevie Wonder song. I am working on Ellington's "The Single Petal Of A Rose" going into Seal's "Kiss From A Rose." A mashup, of sorts. I do have a solo piano record out entitled Our Songs.
Musical Influences: John Coltrane, Miles Davis, Keith Jarrett, Herbie Hancock, Weather Report, Chick Corea, Oliver Nelson, Bill Evans, Wayne Shorter and McCoy Tyner.
Most Satisfying Experience: I have had so many! One of my most satisfying experiences was being in the band Tribal Tech. We went all around the world performing. Doing that with those guys as young as I was was amazing. I'll never forget my first gig with Tribal Tech at Dante's in LA. The music was four music stands wide stretched all the way across. It was the hardest stuff I have ever played in my life. All the big time LA musicians came to that gig. It opened all the doors. Before that I worked with Mark Isham and continued with Mark for fifteen years. I did all his films, records and soundtracks.
Favorite Recordings: John Coltrane – Crescent, Duke Ellington and John Coltrane; Miles Davis – Kind of Blue, My Funny Valentine, Miles Davis In Concert; Keith Jarrett – Facing You, At The Blue Note, Complete Recordings; Herbie Hancock – Flood, The Piano, Maiden Voyage; Weather Report – 8:30; Chick Corea – Now He Sings, Now He Sobs; Oliver Nelson – Blues and the Abstract Truth; Bill Evans – At Town Hall; Wayne Shorter – Speak No Evil; and McCoy Tyner – The Real McCoy.
Discography (partial list): Facing North (1996); Our Songs (2006); w/Kate Davis, Live at Jimmy Mak's; w/Superjazzers, Superjazzers Vol. I and Vol. II; w/Alphonse Mouzon, Live in Hollywood; w/Brandon Fields, Everybody's Business, Brandon Fields; w/Cheryl Bentyne, Something Cool; w/Diana Ross, Greatest Hits Live; w/Gerald Albright, Live to Love; w/ John Patitucci, Mistura Fina; w/Mark Isham, Little Man Tate, Blue Sun; w/Michael White, So Far Away; w/ Pete Escovedo Yesterday's Memories/Tomorrows Dreams, Whatcha Gonna Do; w/Ray Obiedo, Perfect Crime; w/Tribal Tech, Tribal Tech, Primal Tracks, and Nomad; w/Vinnie Colaiuta, Vinnie Colaiuta.
Gigs: David Goldblatt (solo piano), Monday, February 22nd, 7:00 pm, Classic Pianos, 3003 SE Milwaukee, Portland; With Tim Wilcox's Superjazzers, Interpret Coltrane's Sound, Thursday, February 25th, 7:00 to 10:00 pm, Al's Den, 303 SW 12th Avenue, Portland.
Future Plans: I would like to have four or five special gigs a year, doing material you have not seen before. I would also like to have a weekly gig with my son (drummer, Jordan Goldblatt) in a trio setting playing classy jazz arrangements of Nirvana or Paul Simon tunes.
Other: Improvisation feeds composing. There might be one little thing that is good and you build on it. Take John Williams for example, he is the greatest living composer for film. He is also a jazz pianist. He probably sits at the piano and improvises until he finds themes and writes songs. All his music has beautiful themes and he is also a brilliant orchestrator and puts them both together.
Everything has changed. You have to adapt and find new ways of surviving. How can you still be creative and put out a high-minded aesthetic and reach people. That is why I like scoring for media. It is a way to reach people through composing, and it is very creative. I love playing too, but that is a different thing.
---